Program
PROGRAM_XV INTERNATIONAL FORUM 'LE VIE DEI MERCANTI'
WORLD HERITAGE and DISASTER,
Naples 15 June, Capri 16 and 17 June 2017
15 June 2017, Naples, Pegaso University,
Palazzo Zapata, Piazza Trieste e Trento n. 48
9.30  Registration
10.30  Welcome / Institutional greetings
Giuseppe PAOLISSO, Rector of the University of Campania 'Luigi Vanvitelli'
Alessandro BIANCHI, Rector of the Pegaso University
Francesco FIMMANÒ, Scientific Director of the Pegaso University
Lucio SAVOIA, Ambassador, Emeritus General Secretary of the Italian National Commission for UNESCO
Luigi MAFFEI, Director of the Department of Architecture and Industrial Design, University of Campania 'Luigi Vanvitelli'
Luciano GARELLA, Superintendent SABAP (Archeology, Fine Arts and Landscape) for the City of Naples
Maurizio SANTISE, Administrative Judge TAR Campania
Michael SCIASCIA, President of the Tribunal of the Court of Auditors of Campania
Yang XIUJING, Board member of the Academy of Fine Arts in Hangzhon, China
Danilo IERVOLINO, President of the Pegaso University
Introductory Report
Carmine GAMBARDELLA, General Chair, President of the UNESCO Chair on Landscape, Cultural Heritage and Territorial Governance
Moderator
Giorgio MULÈ, Editor in-chief Panorama
Lectio Magistralis
Vincent JOLIVET, Directeur de recherche CNRS-UMR8546 (AOrOc), Ecole normale supérieure Paris
Giuseppina Enrica CINQUE (University of Rome, "Tor Vergata") and Henri BROISE (CNRS, IRAA, Aix-en-Provence, France)
'Civita Musarna (VT): il ritorno al futuro di una Città Etrusca' / 'Civita Musarna (VT): The return to the future of an Etruscan city '
Invited speaker
David LISTOKIN, Co-Director, Center for Urban Policy Research, Rutgers, The State University of New Jersey 'Federal and State Historic Preservation Tax Credits in the United States (U. S.) and Economic, Housing and other benefits: Update To 2016'
Marin MARINOV, Rector of the European Polytechnical University
13.00  Lunch, Naples, Pegaso University, Palazzo Zapata, Piazza Trieste e Trento n. 48

Naples, Pegaso University
Palazzo Zapata, Piazza Trieste e Trento n. 48
15.00   Parallel session
Chair: Carmine GAMBARDELLA

Laura INZERILLO _University of Palermo
ID148_Low cost survey techniques aimed to the Cultural Heritage conservation
Rita VALENTI, Simona GATTO_Università di Catania
ID141_The Catania skyline: two absences from its urban landscape. The "destruction" of the Alessi Tower and of the Bellini Garden Library.
Valeria MINUCCIANI, Gabriele GARNERO_Università di Torino
ID75_ When the Cultural Heritage cannot be physically visited
Go OHBA_Institute of Urban Innovation, Yokohama National University, Japan
156_ The restoration of the outer wall of the Colosseum in the nineteenth century: the intention of Giuseppe Valadier regarding distinctions between old and new architectural materials
Antonio BOSSIO (1) ,Gian Piero LIGNOLA (1) ,Francesco FABBROCINO (2), Andrea PROTA (1) and Gaetano MANFREDI _(1)University 'Federico II' Naples (2) Pegaso University
ID197_Evaluation of seismic behavior of corroded reinforced concrete structures
Giancarlo RAMAGLIA (1), Gian Piero LIGNOLA (1), Francesco FABBROCINO (2), Andrea PROTA (1)_(1)University 'Federico II' Naples (2) Pegaso University
ID198_Impact of inorganic matrix strengthening systems on heritage masonry structures
Francesco FABBROCINO (1), Antonio FORMISANO (2), Gabriele MILANI (3)_(1)Pegaso University (2) University 'Federico II' Naples (3) Polytechnic of Milan
ID209_Fragility and resilience analysis of a cultural heritage centre in the district of Naples
Lucia TRIGILIA_Università degli Studi di Siracusa
ID111_ The Knights of the Order of Malta and the emergency reconstruction after earthquakes of 1693: comparison between seismic events of the seventeenth centuries
Salvatore  LOSCO, Claudia  de BIASE_Università della Campania 'Luigi Vanvitelli'
ID47_Territorial planning, policies and programs for touristic development of Caserta Province
Danila JACAZZI_Università della Campania 'Luigi Vanvitelli'
ID234_Atlas of the Triconch's Architectures in the Mediterranean. The Roman Africa
Saverio CARILLO_Università della Campania 'Luigi Vanvitelli'
ID235_'Impessioni di memorie' Plural accessibility experiences in Naples. Methods of preventive protection of cultural property
Sergio SIBILIO (1), Antonio ROSATO (1) Michelangelo SCORPIO (2), Giuseppina IULIANO (1), Rosapia ORSILLO (3), Nicolò FALCIONE (4)
(1) University of Campania 'Luigi Vanvitelli', Italy, (2) University of Sannio, Italy, (3) Energetic Engineer,  (4) Architect – Interior Designer, Isernia (IS), Italy
ID159_Refurbishing solutions for a museum: the integration between new multimedia exhibition technologies and artificial lighting systems
Maria Dolores MORELLI_University of Campania 'Luigi Vanvitelli', Italy
ID180_ ACTIVEMODESIGN: actions and products of creative resilient
Naples, Sala delle Assemblee del Banco di Napoli
Palazzo Banco di Napoli, Via Toledo n.177
15.30   Parallel session
Chair: Nicola PISACANE
Invited speakers
Michelangelo RUSSO_Università 'Federico II' di Napoli
'Circular economies and regenerative for the city'
Maurizio CARTA_Università degli Studi di Palermo
'The Creative Land. Heritage and Creativity in the Neo-Anthropocene'
Antonio SGAMELLOTTI_Università degli Studi di Perugia, Accademia Nazionale dei Licei,
'Resilience of cultural heritage to natural disasters: The recent involvement of Science Academies'
Speakers
Emilia CORRADI_Politecnico di Milano
ID36_ Mapping by memory_An approach to prevent and programming opportunities for high-risk disaster areas
Antonella VIOLANO, Rinaldi SERGIO, Monica CANNAVIELLO, Mariarosaria ARENA_University of Campania 'Luigi Vanvitelli', Italy
ID22_Retrofit Vs Rehabilitation: improving technological quality of the existing school building
Francesca MUZZILLO, Fosca TORTORELLI_Università della Campania 'Luigi Vanvitelli'
ID43_Wine landscapes between disaster and opportunities
Jurji FILIERI, Elisabetta BENELLI, Laura GIRALDI_Università di Firenze
ID164_Design in the Edge. Strategies for enhancing self-innovation aptitude of fringes
Vincenzo DEL GIUDICE (1), Pierfrancesco DE PAOLA, Fabiana FORTE (2)
(1) Università Federico II Napoli (2) Università della Campania 'Luigi Vanvitelli'
ID101_ Cultural assets and earthquake disasters: evaluation of the damage
Antonella DIANA, Valerio BORGIANELLI SPINA_Enhancement Area – Educational Services – Marketing, Royal Palace of Caserta
ID114_ The Reggia di Caserta's Treasure Hunt
Daniela PALOMBA_University of Campania 'Luigi Vanvitelli'
ID122_ ART and perceptual ARTifices
Laura FLORIANO, Mariangela LIUZZO, Giuseppe MARGANI_University of Enna Kore
ID38_The Baroque Domes in Catania (Sicily)
Maria  NATALE_Pegaso University
ID41_The resilience of ideas. The effects of the plague: law, commerce and legal ideas between the end of the 17th century and the beginning of the 18th century
Pasquale MIANO, Maria Rita PINTO, Stefania DE MEDICI_University of Naples 'Federico II'
ID270_Architectural themes and processes of conservation and transformation in the post-emergency phase. The case of Bohol's churches
Caterina GATTUSO_University of Calabria, Italy
ID136_Fictile Elements in Calabrian historical buildings. Results of a territorial survey
Antonella VERSACI_University of Enna KORE, Italy
ID147_Memory and post-war reconstruction in France: Louis Arretche and the revival of Saint-Malo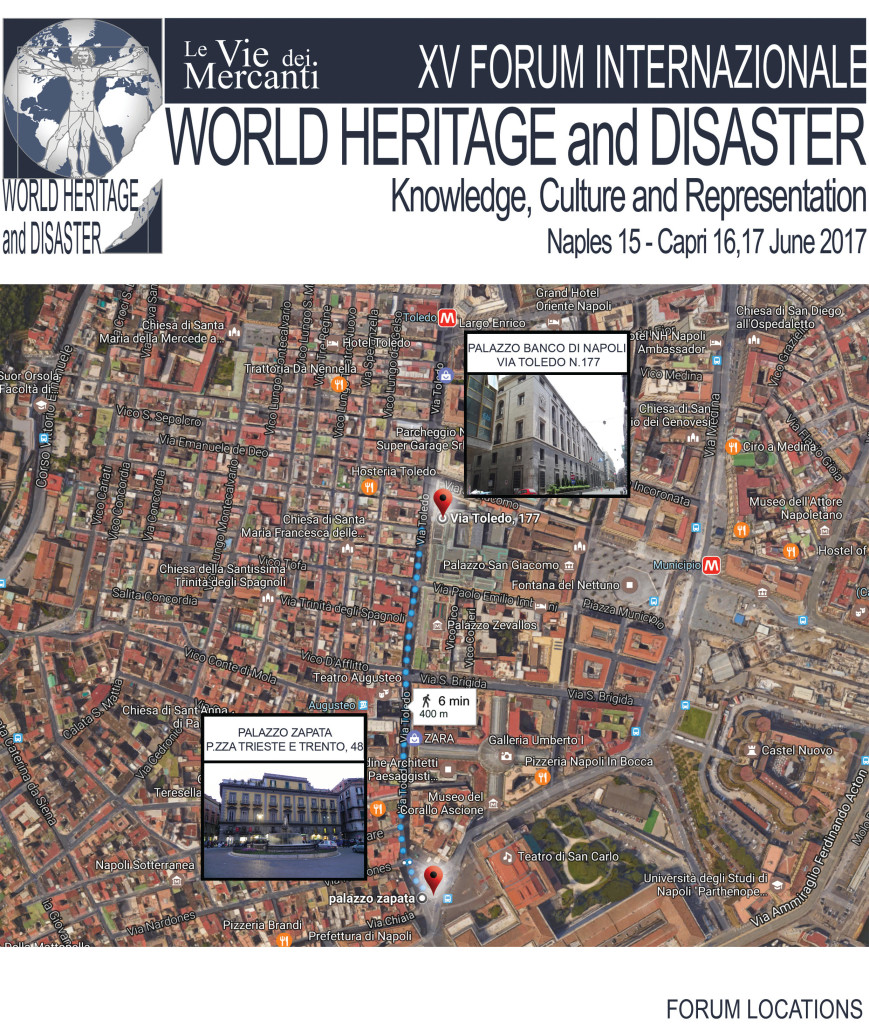 16 June 2017, Capri
Hotel La Palma, Via Vittorio Emanuele n. 39
14.30   Welcome coffee
Hotel La Palma, Sala Pagano
15.00   Parallel session
Chair: Carmine GAMBARDELLA
Lection Magistralis
Paolo PORTOGHESI, Accademico dei Lincei
Un disastro annunciato: la fine del lavoro / An announced disaster: the end of job.
Speakers
Marika MANGOSIO, Pia DAVICO_Politecnico di Torino
ID39_The color-material relation in the social housing of the early twentieth century in Turin: knowing to protect a fragile value
Pia DAVICO, Manuela MATTONE_Politecnico di Torino
ID48_ The Alpine villages of Val Sangone: a heritage in danger
Emilia GARDA, Marika MANGOSIO, Emmanuel PELLEGRINO_Politecnico di Torino
ID61_The role of new types of urban green for the environmental regeneration of the contemporary city
Gabriele AJO'_Roma Tre University, Italy
ID03_ Tivoli, a site of world heritage changing through time: catastrophic events which have hit the city
Nadia FABRIS_Politecnico di Torino
ID05_ From disaster to regeneration
Bernardino CHIAIA, Valerio DE BIAGI_Politecnico di Torino
ID07_ Mechonomics: design thinking for growth and resilience of socio-technical organizations
Tiziana FIRRONE_Università di Palermo
ID10_ The brick furnace of Pisciotto Country, in Scicli: an example of "human disaster"
Antonio BIXIO, Enza TOLLA, Giuseppe DAMONE, Carlo PLASTINA_Università della Basilicata
ID11_Emergency and Survey. The use of photo modeling to document the minor heritage after a natural calamity
Michele MONTEMURRO_Politecnico di Bari
ID14_Reconstructing an ancient country. Settlement and housing models for post-quake reconstruction.
Giulia DE LUCIA, Rosario CERAVOLO, Giuseppa NOVELLO_Politecnico di Torino
ID51_ High-strength cable systems for the seismic protection of historical domes: a multidisciplinary approach
Antonio BOSCO, Barbara DI VICO, Rossella FRANCHINO_University of Campania 'Luigi Vanvitelli', Italy
ID74_ Social and ecological issues in the urban open spaces regeneration
Manuele CASSANO, Marco L. TRANI_Politecnico di Milano
ID195_ Built Heritage Information Models development for on-field checking of restoration works
Elina GUGLIUZZO_Pegaso University, Italy
ID247_A "jewel at risk": Venice and the historical phenomenon of acqua alta
Hotel La Palma, Sala Relais
15.00   Parallel session
Chair: Nicola PISACANE

Alberto SDEGNO, Silvia MASSERANO_Università di Trieste
ID19_Reloading the Imperial Hotel by Frank Lloyd Wright Graphic Analysis and Virtual Rebuilding
Maria Paola GATTI,  Giorgio CACCIAGUERRA_University of Trento
ID21_ Conservation, levarage and innovation of minor religious architectural works
Fulvio RINAUDO_Politecnico di Torino
ID24_Geomatics tools to record 3D shapes for intervention planning
Roberto ORAZI, Francesca COLOSI, Giovanna CRESCIANI, Damiano PORTARENA_CNR-ITABC
ID27_Conservation and valorization of Iraqi Kurdistan's Cultural Heritage: an Archaeological Park against war damages
Federica CAPRIOLO_Architect, Building Manager Groma srl
ID30_Revival from Disaster
Beata MAKOWSKA_Cracow University of Technology, Krakow, Poland
ID32_The impact of the great fire of Krakow in 1850 on the shapes of town houses and urban tissue transformation
Cristina COSCIA, Chiara SENATORE_Politecnico di Torino
ID35_Defense heritage: strategies for disposal and use. The case of the "La Marmora" Barracks in Via Asti, Turin
Paolo BELARDI, Valeria MENCHETELLI, Simone BORI, Luca MARTINI, Laura NARDI, Giovanna RAMACCINI_Università di Perugia
ID40_ARTQUAKE. The artistic performance rule in the post-earthquake reconstruction
Jim COGSWELL_University of Michigan
ID46_ Cosmogonic Tattoos: Ornament and Plunder
Chiara Lorenza REMONDINO, Barbara STABELLINI, Andrea GAIARDO, Paolo TAMBORRINI_Politecnico di Torino
ID49_ From Territory Patrimony to Food Innovation Design
Aldo AVETA, Bianca Gioia MARINO, Jafar ROUHI _University of Naples Federico II, Italy
ID223_Tangible/intangible: destruction and reconstruction of the Iranian site of Arg-e Bam (Bam Citadel)
Kang YIN_Academy of Art Hangzhou, Zhejiang, China
ID256_Revitalising Historic Countryside
Sun YIDONG, Bi CUNBI_China Academy of Art Hangzhou, Zhejiang, China
ID258_Where to go. The Predicament of Protection and Development of Traditional Chinese Village Culture
Stefano CHIARENZA, Noemi SCARPATO_San Raffaele Roma Open University, Rome, Italy
ID119_The role of graphical interfaces in the digital representation of the territory
16 June 2017, Capri
21.00   Gala dinner. GALEOTTA HOME
Via Don Giobbe Ruocco n. 20

17 June 2017, Capri
Hotel La Palma, Via Vittorio Emanuele n. 39
Hotel La Palma, Sala Pagano
9.30   Parallel session
Chair: Massimo GIOVANNINI
Invited speakers
Mosè RICCI_Università degli Studi di Trento
'The New Risking Heritage'
Vincenzo SIVIERO_IUAV Venezia
Tatiana Kirova_ Uninettuno University
The role of intangible aspects in conservation and promotion strategies of Matera and its surrounding territory
Florian NEPRAVISHTA_Polytechnic University of Tirana, Albania
Redesign of two Italian architecture heritage buildings in Tirana: Vittorio Ballio Morpurgo and Gherardo Bosio Works
Spaekers
Steve Mah_ITRES
Detection of potential archeology sites and environmental mapping with airborne broadband thermal and hyperspectral imaging
Angela Alessandra BADAMI_University of Palermo
ID246_ The Resilience of the Valley of Temples Among Natural Calamities and Social Disasters
Tiziana CAMPISI, Liucija BEREZANSKYTE_Università di Palermo
ID54_Lithuanian wooden architecture. Materials, ancient tools and constructive technologies for the safeguard of cultural heritage
Carol COFONE_Rutgers, the State University of New Jersey
ID57_ Modern Memory Palaces for L'Aquila, Amatrice and Norcia, Italy
Angelo MONTELEONE, Vincenzo SAPIENZA_Università di Catania
ID58_ Rehabilitative detention and building rehabilitation: an 'open prison' in the Industrial Archaeology Sicilian Heritage
Mahmut AYDIN, Saadet GUNER_Batman University, Turkey
ID64_UNESCO – Cultural Heritage Protection Handbook and Core Principles
Maria Elisabetta RUGGIERO_Università di Genova
ID66_ Architecture & ships: a dangerous out of scale passage
Maria Linda FALCIDIENO_Università di Genova
ID68_ Representation and historical and procedural typology as contribute to resilience
Sandro PARRINELLO, Francesca PICCHIO, Raffaella DE MARCO_Università di Pavia
ID72_ New generations of Digital Databases for the development of Architectural and Urban Risk Management
Hotel La Palma, Sala Relais
9.30   Parallel session
Chair: Pasquale ARGENZIANO

Cesare VERDOSCIA, Giovanni MONGIELLO, Mario DI PUPPO, Riccardo TAVOLARE, Gaetano PUGLIESE _Politecnico di Bari
ID95_ The BIM model for the study of historical buildings. "Palazzo del Sedile" – Bari
Maria João PEREIRA NETO, Jorge NUNES, Raffaella MADDALUNO_University of Lisbon
ID97_The effects and consequences of the earthquake of 1 November 1755 in Southern Portugal – from devastation to renewal
Pietro CRESPI, Marco ZUCCA, Lavinia CATELLACCI_Politecnico di Milano
ID98_The renovation of Santa Maria di Collemaggio Basilica: the intervention on the nave's columns
Marco CANCIANI, Giovanna SPADAFORA, Laura FARRONI, Matteo Flavio MANCINI, Silvia RINALDUZZI, Mauro SACCONE_Roma Tre University
ID102_ Habitat and Identity: Virtual Recomposition for the Preservation of Knowledge
Maurizio BUCCI (1), Gaia CANE' (2), Paola CARRABBA (1), Massimiliano DE MEI (1), Laura Maria PADOVANI (1), Elisabetta PALLOTTINO (2), Paola PORRETTA (2), Adriana RUGGERI (2), Mauro SACCONE (2), Marco SBRANA (1), Simona SPRIZZI (2)_(1) ENEA, Italy (2) University Roma Tre, Italy
ID112_The Park of Veio: Analysis of the historical landscape for the creation of the Geographic Information System and the Risk Map of archaeological heritage
Alexandra AI QUINTAS_University of Lisbon
ID117_Catastrophes: Chaos, Continuity and Renewal
Barbara MESSINA (1), Pierpaolo D'AGOSTINO (2)_(1)University of Salerno (2) Università 'Federico II' Napoli
ID118_Rocky churches and religious cave sites on the Amalfi Coast: a thematic integrated representation with digital systems
Stefano GIANNETTI (1), Vincenzo DONATO (2)_(1) Università di Ferrara (2) Politecnico di Torino
ID125_Digital reconstruction after disaster: what seems to be lost
Maria Paola MARABOTTO_Politecnico di Milano
ID132_Pylons and votive pillars. Cognitive analysis and design of degraded cultural heritage
Enio LAPROVITERA DA MOTTA_Federal University of Pernmanbuco – UFPE, Recife, Brazil
ID76_From the aesthetics of recesses to the aesthetics of elasticity. Culture and architecture project in Recife (Brazil)
Mário S. MING KONG_University of Lisbon
ID78_Facing Disaster – Tracing reactions of the population on the Earthquake of 1755
Marco MEDICI, Federico FERRARI_Università di Ferrara
ID80_Integrated survey, emergency survey
Marcello BALZANI, Federica MAIETTI_Università di Ferrara
ID90_The preservation of memory to restore the matter. Approaches to survey and documentation of heritage at risk
13.00   Lunch. Capri, Hotel La Palma
Hotel La Palma, Sala Pagano
14.30   Parallel session
Chair: Rosaria PARENTE

Giacomo CHIESA, Mario GROSSO_Politecnico di Torino
ID149_ Environmental and Technological Design: a didactical experience towards a sustainable design approach

Takeyuki OKUBO_Institute of Disaster Mitigation for Urban Cultural Heritage, Kyoto, Japan
ID150_Environmental Water Supply System (EWSS) for Disaster Mitigation in Seismic Fire- Case Project in Kiyomizu World Cultural Heritage Zone
Piero BARLOZZINI_University of Molise
ID152_The anthropized hypogean structures of Molise, a case study: the church of Sant'Antonio Abate at Pietracupa
Anna MAROTTA_Politecnico di Torino
ID108_ A foundation town grown by an earthquake: Cerreto Sannita
Elena Teresa Clotilde MARCHIS_Politecnico di Torino
ID248_ Disasters and earthquakes in Western Liguria. The "earthquake of Diano Marina, 1887"
Mario CENTOFANTI, Stefano BRUSAPORCI, Pamela MAIEZZA, Gianluca SERCHIA_Università dell'Aquila
ID160_Integrated Survey and Three-Dimensional Modeling for the Historical-Critical Study of Modern Architecture. The Colonia "IX Maggio" (1934-1937) by Ettore Rossi
Elisabetta BENELLI, Laura GIRALDI, Jurji FILIERI, Francesca FILIPPI_University of Florence
ID168_(R)4SMEs. Resilience essentials for Small and Medium-sized Enterprises SMEs
Daniele Giovanni PAPI, Franco FORZANI BORRONI_Politecnico di Milano
ID173_About Ruining. A Representative Interpretation
Isabella FRISO, Cosimo MONTELEONE, Claudio PATANÈ_Università di Padova
ID174_The reconstruction of Heiankyo (Kyoto): the image of a capital city between the clouds
Alberto CUSTODI, Nicola SANTOPUOLI_University of Bologna
175_The Sanctuary of Santa Maria delle Grazie at Fornò: a FEM approach to seismic structural analysis
Juan CORSO, Jordi CASALS, Pilar GARCI-ALMIRALL_UPC, Barcelona
ID181_ Restitution of Barcelona at the end of the third century. Models and diffusion of the Colonia Iulia Augusta Faventia Paterna Barcino
Nunzia BORRELLI, Matteo COLLEONI_University of Milan Bicocca, Italy
ID199_Making mobility more sustainable. Findings from a survey in Southern Italy
Francesca CASTAGNETO_University of Catania, Siracusa, Italy
ID189_From Renewal to Urban Regeneration: a research to rehabilitate Ortigia's marginal places
Massimiliano MARAZZI, Leopoldo REPOLA, Nicola SCOTTO DI CARLO_University Suor Orsola Benincasa, Italy
ID191_Vivara. From prehistory to digital information
Andrey V. VASILYEV_Samara State Technical, University, Russia
ID241_Provision of noise safety of urban territories: russian experience
Rosaria PARENTE_Benecon Research Centre, Unesco Chair on Landscape, Cultural Heritage and Territorial Governance – Pegaso University
ID 251_"about the harmonious order that the entire building rest entirely in the same Design" L.B. Alberti De Re Aedificatoria
Hotel La Palma, Sala Relais
14.30   Parallel session
Chair: Alessandro CIAMBRONE

Cesare CUNDARI (1), Gian Maria BAGORDO (2), Gian Carlo CUNDARI (1), Maria Rosaria CUNDARI (3),
Giuseppe ANTUONO (1)_(1) Università la Sapienza Roma (2) Federico II Naples (3) Università di Padova
ID227_The lost theatre: scenography and functions of the original entrance to Villa Farnesina
Soheyl SAZEDJ_University of Lisbon
ID183_ An approach to analyze the sustainability of architectural and urban design
Luigi BIOCCA (1), Teresa VILLANI (2)_(1)Consiglio Nazionale delle Ricerche – CNR (2) Sapienza Università di Roma
ID184_Designing of Wayfinding as facilitator of evacuation in case of emergency: application to large museums
Antonello MONACO_Università degli Studi Mediterranea, Reggio Calabria
ID186_ Port of Ischia: From a Volcanic Crater to a Traffic Hub. Or: From a Natural Disaster to an Artificial Disaster
Ivan CAVALCANTI FILHO, Maria Berthilde MOURA FILHA_Federal University of Paraíba, João Pessoa, Paraíba, Brazil
ID188_Santo Antônio at Paraíba and Santo Antônio at Paraguaçu: two Franciscan church interiors affected by disaster
Massimo MALAGUGINI_Università di Genova
ID200_Communicate to alert; know to avoid
Anna Maria ATRIPALDI, Simona CALVAGNA_University of Catania
ID201_The design of volcanic ground, from disaster to heritage. Architecture and landscape in Macaronesia
Mariacarla PANARIELLO_University of Campania 'Luigi Vanvitelli', Italy
ID203_Design driven innovation for cultural heritage
Rosa TAMBORRINO, Paolo PIUMATTI_Politecnico di Torino
ID205_ Modeling the catastrophe, and beyond. Digital History and Visualization methods for multiscalar process description of the Nubia Temples flooding
Teresa CILONA_Università di Palermo
ID206_ The promotion of the historical, cultural, and landscape heritage – Active citizenship
Valentina CINIERI, Emanuele ZAMPERINI_Università di Pavia
ID207_The grand staircase of the University of Pavia: construction techniques and decay of stucco decorations
Natasa ZIVALJEVUC-LUXOR (1), Nadja KURTOVIC-FOLIC (2), Petar MITKOVIC (1)_(1) University of Nish, Serbia, (2) University of Novi Sad, Serbia
ID167_Disaster and Built Heritage in Serbia
Antonieta COSTA_University of Porto, Portugal
ID110_Mystic Landscape Architecture
Katarina SMATANOVA_Slovak University of Technology Bratislava, Slovakia
ID192_Role of heritage conservation in new regional planning system in Slovakia
Alessandro CIAMBRONE_Benecon Research Centre, Unesco Chair on Landscape, Cultural Heritage and Territorial Governance – Pegaso University
ID300_Representing territorial regeneration in the disastrous area of Domitio Coast in Italy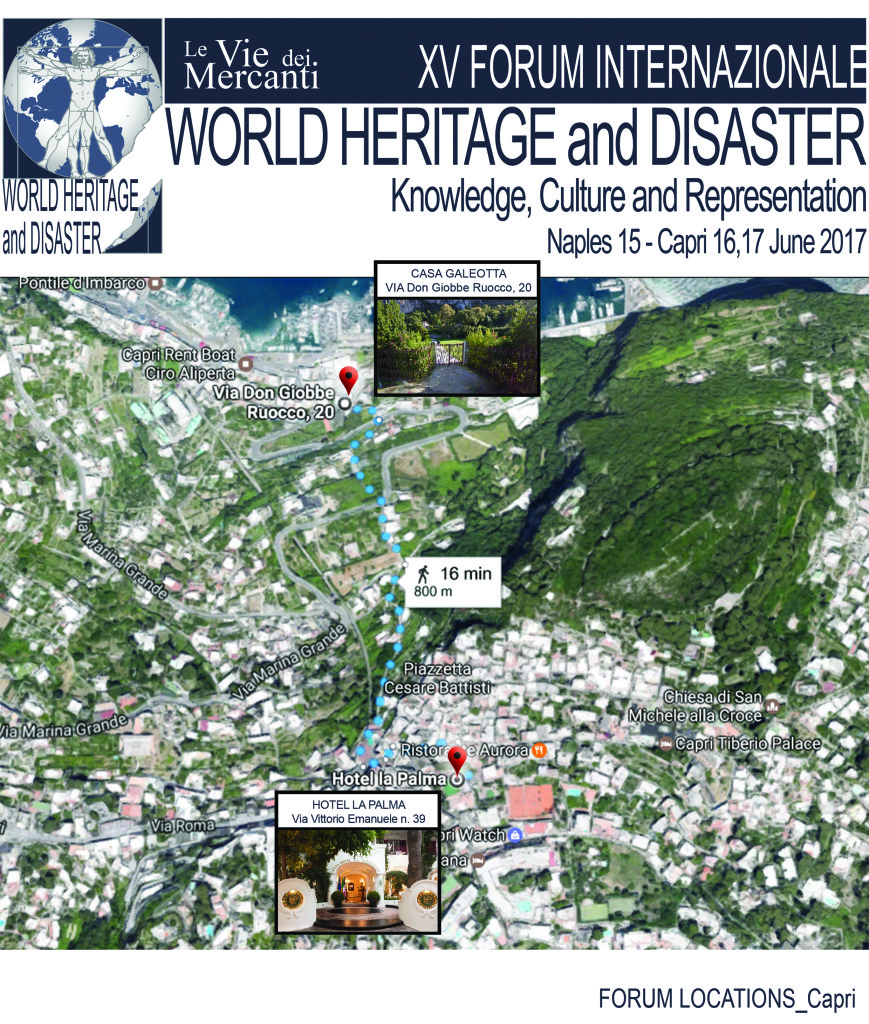 INTERNATIONAL SCIENTIFIC COMMITTEE
President
Carmine Gambardella, Professor, CEO and President of BENECON, UNESCO Chair on Landscape, Cultural Heritage and Territorial Governance
Components
Aygul Agir, Professor, Department of Architecture, Istanbul Technical University
Ahmed Abu Al Haija, Professor and Head, Environmental Design, Urban and Architectural Heritage, Faculty of Engineering, Philadelphia University, Jordan
Ali Abu Ghanimeh, Vice president Al al-Bayt University Almafraq – Jordan
Pilar Garcia Almirall, Professor, UPC Ecole Tecnica Superior d'Arquitectura Barcelona
Pasquale Argenziano, Professor Second University of Naples
Alessandra Avella, Professor Second University of Naples
Harun Batirbaygil, Head, Department of Architecture, Okan University, Istanbul
Cevza Candan, Professor, İstanbul Technical University
Federico Casalegno, Professor, Massachusetts Institute of Technology
Joaquín Díaz, Professor and Dean, Technische Hochschule Mittelhessen-University of Applied Sciences , Department of Architecture and Civil Engineering
Yurdanur Dulgeroglu, Professor and Head of the Department of Architecture, İstanbul Technical University
Yonca Erkan, Chairholder UNESCO Chair, Kadir Has University
Kutgun Eyupgiller, Professor, Department of Architecture, Istanbul Technical University
Yankel Fijalkow, Professor, Ecole Nationale Supérieure d'Architecture Paris Val de Seine, France
Carmine Gambardella, Professor, CEO and President of BENECON, UNESCO Chair on Landscape, Cultural Heritage and Territorial Governance
Paolo Giordano, Professor, Coordinator of the Ph.D. School in Architecture, Industrial Design and Cultural Heritage, Second University of Naples
Xavier Greffe, Professor and Director, Centre d'Economie de la Sorbonne Paris
Manuel Roberto Guido, Director Enhancement of Cultural Heritage, Planning and Budget Department, Italian Ministry of Heritage and Culture
Bernard Haumont, Professor, Ecole Nationale Supérieure d'Architecture Paris Val de Seine
Tatiana Kirova, Professor, Polytechnic of Turin
Alaattin Kanoglu, Professor, İstanbul Technical University
Ilknur Kolay, Professor, Department of Architecture, Istanbul Technical University
Mathias Kondolf, Professor, and Chair, Landscape Architecture and Environmental Planning, University California Berkeley
David Listokin, Professor, Edward J. Bloustein School of Planning and Public Policy, Rutgers University
Andrea Maliqari, Professor and Rector of the Polytechnic University of Tirana;
Sabina Martusciello, President of the Degree Course in Design and Comunication, Second University of Naples
Massimo Menenti, Professor, Department of Geoscience and Remote Sensing, Faculty of Civil Engineering, Delft University of Technology, The Netherlands
Rusudan Mirzikashvili, Head of the UNESCO and International Relations Unit, National Agency for Cultural Heritage Preservation of Georgia
Louise Mozingo, Professor, and Chair, Landscape Architecture and Environmental Planning, University California Berkeley, USA
Maria Dolores Munoz, Professor, UNESCO Chair, EULA Environmental Centre, University of Conception, Chile
Florian Nepravishta,  Professor and Dean of the Faculty of Architecture and Urbanism, Polytechnic University of Tirana
Raymond O' Connor, TOPCON Positioning Systems CEO
Jorge Peña Díaz, Professor, Facultad de Arquitectura, Instituto Superior Politécnico José Antonio Echeverría, Cuba
Rosaria Parente, Ph.D. in "Architecture, Industrial Design and Cultural Heritage" at University of Studies of Campania "Luigi Vanvitelli"
Nicola Pisacane, Professor Second University of Naples
Adriana Rossi, Professor, Second University of Naples
Michelangelo Russo, Professor, Università di Napoli Federico II
Paola Sartorio, Executive Director, The U.S.- Italy Fulbright Commission
Lucio Alberto Savoia, Ambassador, Secretary  General Emeritus, Italian National Commission for UNESCO
Maria Anita Stefanelli, Professor, Department of foreign lenguagers, literature and Culture, Università degli studi RomaTRE, Roma
Elena Shlienkova, Professor, Professor of Architecture and Construction Institute of Samara State Technical University
Eusebio Leal Spengler, Professor,  Historiador de la Ciudad de La Habana Presidente de Honor del Comité Cubano del ICOMOS
Isabel Tort, Professor,  Director of the Forum UNESCO – University and Heritage (FUUH) Programme  Universitat Politècnica de València UPV, Spain.
Andrey Vasilyev, Professor, Head of Department of Chemical Technology and Industrial Ecology, Samara State Technical University
Ornella Zerlenga, Professor, Second University of Naples
Scientific and Organizing Local Committee
Alessandro Ciambrone, Coordinator of the scientific program and relationships with the International Scientific Committee
Rosaria Parente, Scientific Assistant of the  International Committee President
Luciana Abate, Giovanni Bello, Giuliana Chierchiello, Enrico De Cenzo, Ciro Ferrandes, Carmine Maffei, Graphics and layout
Dario Martimucci, Web master